Top Emotional Needs In A Relationship: 4 Tips for Better Luck in Love
Our needs are prerequisites to our happiness. Beyond our basic needs for survival, i.e. food, water, and shelter, we all have needed to fuel us at a more emotional, spiritual level.
Being happy is about embracing who you really are and this means facing up to what you really want from life. In romantic relationships, this is especially important.
Too many people believe that they must stifle or adjust their needs to suit those of a potential partner. Perhaps they believe that changing their needs can make them more lovable?
Maybe they are afraid of being alone, so may do anything to stay in a relationship, even if this means putting their needs second?
"What do I need?"
When you change or hide away your needs in a relationship, it may seem to work at first. However, once the heat of new love begins to cool and you've been overlooking your needs for some time, the cracks will slowly but surely begin to show.
Unbelievably, many people are completely unaware of what their needs even are. They have lived their lives so hungry for acceptance, determined to fit into a 'normal' relationship, that they have totally neglected to find what it is that they want.
Do you feel as though you are always putting the needs of others before your own in your romantic relationships? Do you struggle to ask for what you want, or feel guilty when you do?
If this sounds like you, then maybe it's time you asked yourself: 'What do I need?'
Listening to your needs and communicating them is an essential ingredient for self-love. After all, how can you ever be the recipient of true love in a relationship, unless you have learned to love yourself first?
4 Tips for Better Luck in Love
Consider the following 4 points, to begin understanding and successfully sharing your needs in a relationship.
1. What Are Your Emotional Needs?
Can't answer that question? Then they are most certainly not being met. However, unless you've asked yourself this question before, how would you know what they are?
So ask yourself now, what do I need? What do I need from a relationship in order to feel loved, supported, joyful, etc.?
This is not about what you think you should want. It shouldn't be about what makes relationships work in the movies; listen to your gut, listen to you. Do you need more fun? More alone time? More spontaneity?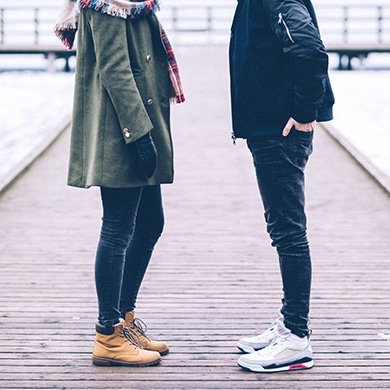 Be honest with yourself and consider whether or not these needs are being met in your current relationship. If they are not, then there's no need to panic quite yet! This can all be changed for the better…
2. Having Needs Does Not Make You Selfish
When pondering their needs for the first time, a lot of people can feel a sense of guilt. They feel guilty for wanting something they're not currently getting, worried that it makes them selfish.
This is not the case at all. A lifetime of putting yourself second and people-pleasing is to blame for feeling this way. You have to remember, honoring your emotional needs, both in relationships and life, in general, is an important part of self-love.
How we treat ourselves dictates how others treat us. So see your needs as important and your partner should too.
3. Make Your Emotional Needs Known
Your emotional needs are a reflection of your true, authentic self. You shouldn't want to bury them away out of sight, you should want to embrace them, share them!
A happy relationship is one where both people are able to communicate their needs freely and honestly. It should not be about one person's needs whilst the other molds or suppresses theirs to conform. It should be about a relationship based on authenticity, communication and a real want to support both your own and the other person's needs, equally.
Sometimes, in order to meet another's needs, all we need to do is give them space. That's it. No one should be accountable for another person's happiness; that doesn't make for a strong relationship. Making your needs a priority as well as your partner's, however, does.
4. Nurture Them!
First and foremost, you and only you can ensure that your needs are being met.
Identifying those needs, voicing them, and then taking steps to ensure that they are being met is your responsibility. Tend to your needs in this way and not only should your own personal happiness improve tenfold, by your relationship happiness can sky-rocket!
By acknowledging your needs in a relationship, you are bringing your true, authentic self into the relationship. Encourage your other half to do the same and that's when relationship magic should start to happen.
For greater authenticity, self-love and a more connected, blissful relationship ask yourself the all-important question, what are my needs?
You may be surprised by your answers; you may have known them all along. Whatever you discover you can be sure of this, both you and your relationship should be changed for the better because of it.