Tony Robbins: Life Transformation And Empowerment Coach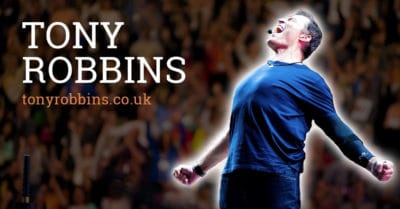 If you've ever looked into personal development or personal development products and seminars, then you've likely heard the name Tony Robbins.
He is a world-renowned self-help coach with over 40 years of experience empowering over 50 million people through his products and he's known for his books, events, and seminars that have served over 4 million people in 80 countries.
He's been called upon as the coach to celebrities and superstars, world leaders, billionaire businessmen, and is considered the #1 personal development leader of all time.
He's even been named by Fortune magazine as "The CEO whisperer. Tony Robbins has dedicated his life to helping individuals and businesses succeed.
Born Anthony J. Mahavoric on February 29th, 1960, he grew up with challenging family life, and through his struggles, he discovered his life's purpose.
Tony believes deeply in The Law Of Attraction to completely transform your life. As Tony says, "whatever you hold in your mind on a consistent basis is exactly what you will experience in your life." He is a must-know for anyone looking to make a personal or business transformation.
Who Is Tony Robbins?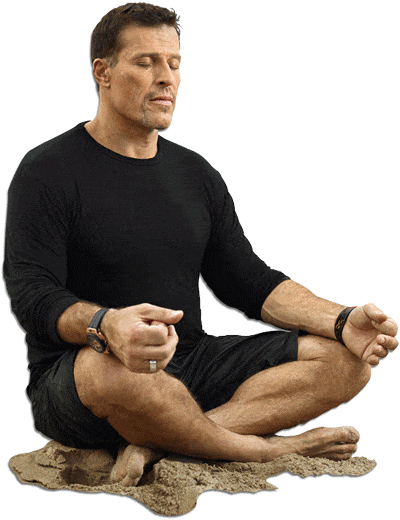 Tony Robbins is one of the most influential people in the world.
That wasn't his mission when he started out obviously, nor has it ever been. Tony's influence was a direct result of his purpose and his popularity.
What has always driven him from the beginning is a deep sense of wanting to help others. Not only has he helped individuals and businesses achieve their goals, but he's also helped to feed those in need.
In the last three years alone, Robbins' philanthropy Feeding America has provided over 325 million meals. His purpose has always been people-centered, and community-centered.
He's a fascinating individual who loves helping others, and he doesn't even have a formal education.
Many people might be surprised to know that Tony doesn't even have a formal background in clinical psychology or human behavior. He's studied it and he understands it better than almost anyone, but he's completely self-taught. The strategies he uses to help people transform their lives come mostly from their own experiences.
Tony refers to himself as a "practical psychologist". What this means is that he uses more practical logic and reasoning to solve problems instead of some of the more commonly practiced methodologies.
It's not easy to miss Tony. Besides being extremely popular, he is also extremely tall. Tony Robbins is a staggering six foot – seven inches tall.
This is attributed to Acromegaly, a hormonal disorder that produces too much growth hormone within the body. However, we prefer to think of it as a result of all his personal development growth.
Tony Robbins' life story is one of gratitude, resilience, passion, and success. To truly understand the man, however, we need to visit the beginning of his story. So, how did Tony Robbins start?
What Is Tony Robbins Life Story? How Did He Start?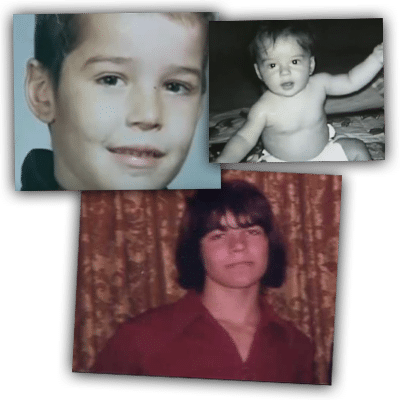 Born Anthony Mahovoric in North Hollywood, California he has the firstborn of three children in his family. When Tony was just 7, his parents divorced and his mother remarried Jim Robbins, who adopted Tony.
That is how his last name became Robbins. That, however, would only be the start of even more chaos for Tony.
As he got older, his relationship with his mother got increasingly worse. She had substance abuse issues and would treat him very badly.
She would physically hit him until he bled, and pour liquid soap down his throat and she continued to abuse him for years then she remarried again multiple times, so Tony ended up having four different fathers. Then at 17, Tony's mother finally kicked him out of the house.
Tony did not have an easy childhood. You can say that his childhood experience was the impetus for the man that Tony would later become.
Tony found what he could to get by. He eventually found a job as a janitor for $40 a week and he worked this job from 10 pm – 2 am in the morning, so he had the day to work on other things. He also enjoyed it because it gave him the freedom to think. Then by a twist of fate, he finally met Jim Rohn.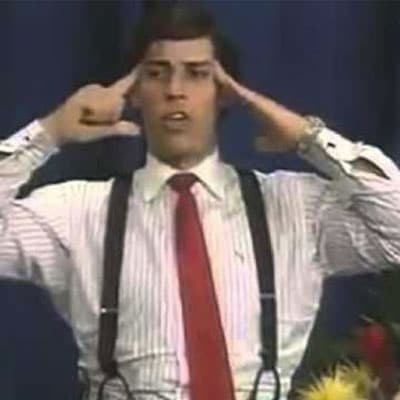 Jim Rohn was a motivational speaker and author that turned everything around for Tony. So, Tony actually started promoting personal development seminars for John.
Shortly after Tony then met neuro linguistic programming expert John Grinder, which helped Tony to develop his own methodology around practical psychology. Tony then went into business for himself. He started with small seminars, and soon developed a large following.
Soon he released his first infomercial called Personal Power, and thus began the spark of an amazing career.
He married Becky Jenkins in 1984 and then filed for divorce in 1998. Robbins adopted her three children, and also fathered a child with former girlfriend Liz Acosta. He married Sage Robbins in 2001, and they've been happily married for 19 years, living in Manalapan, Florida.
Tony Robbins Wife – Sage Robbins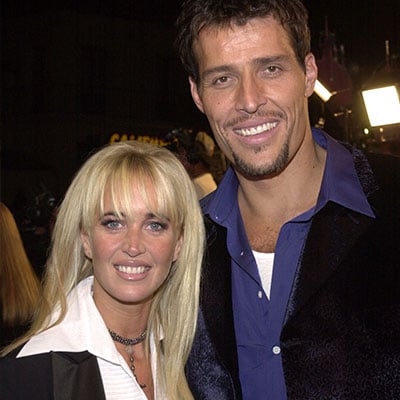 They say that behind every great man is an even greater woman. That woman is Canadian born Sage Robbins, born Bonnie Pearl Humphrey in 1972. Tony met Sage in 1999, they dated for a short while and got married in 2001.
Tony was extremely unhappy in his previous marriage, and Sage was just the person he'd been searching for after so many years.
Sage by her own right was a self-driven woman with a professional career as an acupuncturist and a phlebotomist. She's also a creative soul with acting experience, playing roles in both Candian television and American film.
Sage is not a motivational speaker, but she often appears alongside her husband at events to help coach people in relationships.
Sage deeply feels that she was made to support Tony. She is there side by side with him at nearly all his events and she helps out in various capacities from the staff to the creative aspects of the live seminars.
She has also co-hosted youtube videos with Tony where they give relationship advice together and Sage is also the ideal mother and manages the entire family. Sage also has kids from her previous marriage.
Sage was in the middle of a divorce when Tony and she met. She was married to a Canadian businessman named John Lynch. The former husband claimed that Tony was the reason for the couple's divorce, and tried to sue, but that was later thrown out in court.
Sage Robbins has been the ideal wife, mother, and partner that Tony needed in his life. Tony claims that Sage understood him and helped him to achieve the tranquility and peace of mind that he has been trying to reach for a long time.
Tony felt drained by his previous marriage and wanted to grow with somebody. Someone with similar goals and values. He is lucky to have found that in Sage, and credits her for providing the right balance of emotional support and strength he needs to help serve millions of people.
Tony Robbins Children
Tony Robbins has four children in total. Three adopted children from his first marriage to Becky Jenkins in 1982, and one biological child from his girlfriend Liz Acosta.
Many of them have avoided the public eye, however, his son Jairek has followed in his father's footsteps, and his daughter has made quite a successful career in acting.
Tony Robbins Son – Jairek Robbins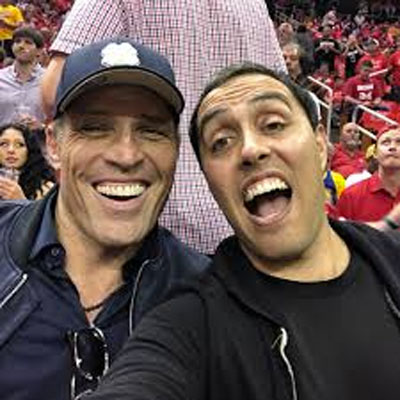 As the only biological child of Tony Robbins, it is very fitting that Jairek has followed in his father's footsteps.
Jairek is a performance and motivational coach and speaker, including self-help author of 'LIVE IT!: Achieve Success By Living With Purpose.'
He worked for his father's foundation (The Anthony Robbins foundation) in 2001, which benefits schools, prisons, and human services organizations.
A couple of years later Jairek then went on to become a coach at the Robbins Research International organization.
Now he is a speaker and coach just like his father traveling the globe and helping others.
There is a lot more to be seen of Jairek in the future.
Tony Robbins Daughter – Jolie Jenkins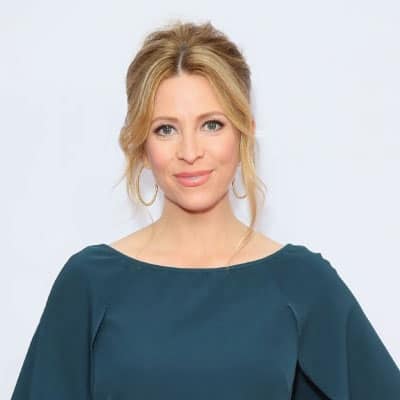 Jolie Jenkins is Tony's adopted daughter from his first marriage.
Unlike her brother Jairek, Jolie decided to pursue a career in acting – not in the personal growth industry.
She's had quite a successful career, appearing in many notable tv shows, such as: X-Files, House of Lies, Shasta McNasty, S1m0ne, and Buying the Cow.
She also has a popular blog online called Joeycake, featuring her point of view and passion around being an actress, a mother, and a wife, where she shares her unique experience and perspective.
In 2001 she married David Pagani, and they had a son together.
Tony Robbins Seminars
Discover your true destiny within at TonyRobbins.com.
If you've ever been to one of Tony Robbins' events and experiences, then you know that it's all about how to create a transformational breakthrough for yourself.
He has many types of seminars that are for personal experiences as well as business experiences. If you have a hunger for personal development, growth, and progress, any one of these events is great. It's always high energy.
Tony Robbins' speaker skills are impeccable, and he has spent years honing knowledge, and gathering experts to bring his fans the best experience possible. Also, what experience wouldn't be great without firewalking?
That's right, Tony has incorporated firewalking into his events since the 80's as a way for people to create a visual, physical, and visceral breakthrough right away.
Unleash The Power Within (Live Event)
Unleash The Power Within or 'UPW' is one of Tony Robbins' signature events that are three and a half days long. It's all about overcoming fears and maximizing our capabilities as human beings.
Tony teaches people how to overcome limiting beliefs within so that they can mentally break through walls in their thinking, and unleash their ultimate potential. With decades of experience, based on Tony's research, he has developed fundamental tools to reach your goals and desires.
Many celebrities have been known to attend Tony's events. Gerard Butler went to an unleash the power within the seminar, and afterward was quoted as saying: "Fear is a huge issue for me. This technique Tony has is a really smart way to literally set those fears aside… That to me is unleashing the power within."
Unleash the power within will help people to focus on their physical health as well as their mental health. Tony believes that it's all connected and that without one, you cannot achieve total balance.
Maybe you're doing really well at work, but your relationship with your wife has suffered as a result. Or perhaps, your physical health is really well, but your relationship with your kids has taken a backseat. Tony wants to show his audience how to find that balance and harmony.
No seminar would be complete without a Tony Robbins firewalk, so this is also a part of unleashing the power within. If you're unfamiliar with firewalking, it is the practice of walking barefoot over a bed of hot embers or stones.
This ritual has been observed by many cultures all around the world as a rite of passage. Typically it is meant to help develop strength and courage. Tony uses it as a way to help people find transformation right away.
Date With Destiny (Live Event)
Tony's other signature event 'Date With Destiny' is an immersive six-day experience. This event is all about discovering your ultimate purpose in life. At this event, people will have the opportunity to answer the most important questions of their lives that will ultimately shape their destiny.
This is Tony's largest event ever. This event was inspired out of Tony's own personal experiences with highs and lows in life, and how to create purpose from it. It's by far the most intimate event that Tony Robbins offers.
Date with Destiny is an unforgettable experience. That's probably why tickets for this vary between forty-five hundred and six thousand dollars. As one such fan says – "Date with Destiny is a life-changing experience…you grow so much, so fast, that you literally don't recognize the person you were from the first day."
Most people are looking for complete transformations in their lives, and this event provides that for them.
Tony has always been about transforming the entire human being. This means getting results physically, spiritually, monetarily, and emotionally.
Date with Destiny is the number one event in the world for personal development with nothing else like it.
Best-Selling Author: Tony Robbins Books
Tony Robbins' books and audiobooks have empowered millions of people around the world. People from over 100 countries have absorbed his products.
Tony is the author of six international bestsellers, which includes such popular titles as: Awaken the Giant Within, Unlimited Power, and Giant Steps. Tony took 100% of the profits from his most recent book Unshakeable, and donated them to charity.
Awaken The Giant Within
One of Tony's most popular books, Awaken the Giant Within, was originally published in 1991. Since then the book has sold millions of copies and is an international bestseller. It's about how to take immediate control of your mental, emotional, physical, and financial destiny.
Within the book, Tony outlines the importance of raising your standards to live a much happier and healthier life.
He believes that in order to raise your standard of living, you must change your belief systems and reprogram your minds. As these belief systems form new habits, we then see real transformation.
To retrain our mind and undo years and years of negative conditioning, Tony has outlined five areas of your life to focus your mind on, which is part of a system he calls the "Master System". These are in the areas of beliefs, emotions, and habits.
By the end of the book Tony teaches people how to own their decisions and learn from every mistake. Also, how to be patient and focus on long term success. A must buy for anyone who has felt a sleeping giant within themselves for years.
Unlimited Power

Unlimited Power was released by Tony Robbins in 1987 and Unlimited Power remains one of his best books. By the age of 25, Tony Robbins achieved financial success and was traveling across the world for speaking events. From being kicked out of his home, to being a broke janitor, and then suddenly a millionaire, Tony wanted to teach others how to make the same amazing transformation he did.
Within Unlimited Power, Tony largely uses the concept of NLP techniques (neuro-linguistic programming) to get his message through to the reader. Neuro-linguistic programming is something that Tony learned about after he met John Grinder, one of the founders of this brain hacking technique. Basically, Tony shows us how to use this practice to reprogram your mind.
He also uses the power of modeling. Specifically, modeling other people for success. Tony believes that if you study the beliefs and thoughts of successful people or people you admire, you can become just like them.
Giant Steps: Small Changes to Make a Big Difference
Giant Steps was Tony Robbins' follow up book to Unlimited Power was originally published in 1994, and was another smashing success.
Within this book Tony wanted to give his readers more specific tools and techniques to follow. He gives key examples and exercises to improve your life right away.
Utilizing Tony's principles and strategies within this book, readers can take small steps to make big changes in their lives. They can make changes in their health, wealth, and even happiness. Tony has always been about personal success as well as professional success, and this book helps with both.
Most people can get easily overwhelmed, so Tony helps the reader by spoon-feeding them the first steps towards major success.
By taking one small step, then another, and another, readers begin to make big changes from where they used to be. It doesn't feel so overwhelming, and worries become more manageable. Giant Steps covers all areas of your relationships, finances, health, and emotions.
Unshakeable Your Financial Freedom Playbook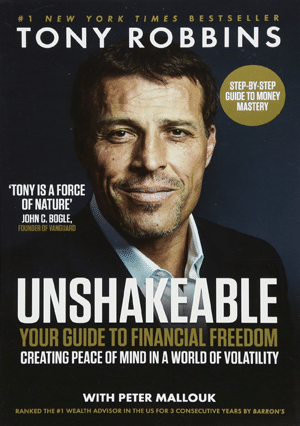 Unshakeable, Tony's latest book is a step by step guide for money mastery. As Tony says, Unshakeable is all about having a plan. To master money you need to be educated and not be fearful. Published in 2017, Unshakeable sold over one million hardcover books, in a time when hardcover books aren't sold as much.
The book is broken down into three sections.
This first section of the book is "Wealth: The Rule Book, whereas Tony breaks down the fundamentals of how wealth is built. The second section of the book is "The Unshakeable Playbook", which shows you how to create the plan.
The third section is "The Psychology of Wealth," which is all about keeping your head in the game after you get money.
Within Unshakeable, much of it is spent on talking about the stock market, how it works, and how you can benefit from it. The typical American doesn't know much at all about how to invest, and Tony wants to change that.
He shows you how to save money, where to park that money, and how to use things like compound interest to developing wealth. Whether a college student or a baby boomer, this is a must-read for every generation.
Money: Master the Game: 7 Simple Steps to Financial Freedom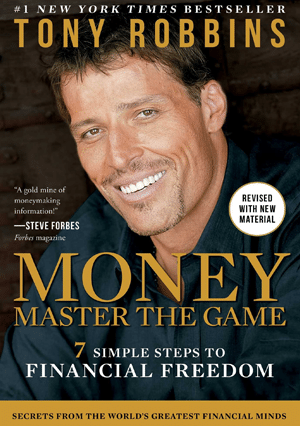 Master the Game is all about making and keeping money. It was released by Tony in 2014. Within the book, Tony makes a promise that "if you stay with me and follow the seven simple steps in this book – the steps that have been distilled from the world's most successful financial players – you and your family will win this game."
For the book, Tony interviewed fifty of the biggest financial players in the world. He wanted to use their knowledge to spread it to the masses so that the average person can get smart about their money, and their retirement.
For example, step number two in the book is "become an insider", which refers to knowing the rules before you start. You have to know the rules of making money before you get to financial freedom.
By the end of the book, readers have a complete understanding of how to make money as well as how to keep it.
Tony Robbins In Movies
Tony Robbins has proclaimed himself that he is most definitely not an actor in the slightest, however, he has still managed to get a role in a major movie. On top of that, he has also managed to secure a major feature on Netflix.
I Am Not Your Guru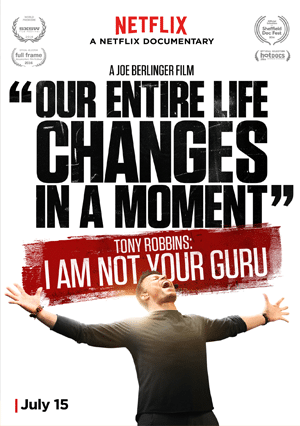 It was a very exciting year for the Tony Robbins franchise in 2015 when they teamed up with director Joe Berlinger to release the Netflix special – I Am Not Your Guru.
This special 2-hour documentary film followed Tony and his team to Boca Rotan, Florida for the 6 night Date With Destiny seminar.
Tony has always been hesitant to allow cameras into his seminars, where his customers pay a lot of money to be there in the first place. However, it's always been important for Tony to get his powerful message to as many people as possible.
So, for the first time, he granted Joe Berlinger and his team exclusive access to this groundbreaking event.
The Tony Robbins Netflix special is a must-see for all who want to improve their lives. Viewers will be taken on a special journey about discipline, honesty, purpose, and so much more. I Am Not Your Guru will leave you feeling motivated and uplifted.
Shallow Hal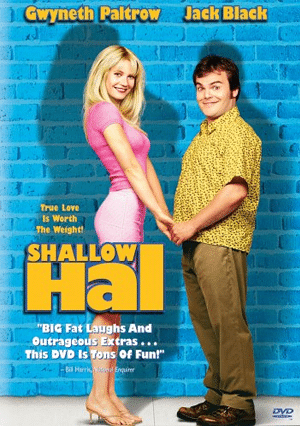 In 2001 Tony had the great privilege of making it to the big screen of Shallow Hal.
He was so important to the movie studio, that he was actually written into the script as a pivotal character.
At first Tony turned the role down, but after reading the script, Tony really enjoyed it and decided to accept the role.
In the movie, Tony helps the main character Hal, played by Jack Black. Hal is a superficial man who needs help in seeing the inner beauty of women.
Tony helps him do exactly that by hypnotizing him, thus releasing him from his superficial tendencies.
The movie was a huge success and generated over $140 million worldwide.
Favorite Tony Robbins Quotes
"If you do what you've always done, you'll get what you've always gotten.
"Your happiness will never last as long as it's got expectation behind it".
"You see, in life, lots of people know what to do, but few people actually do what they know. Knowing is not enough! You must take action."
"The quality of your life is the quality of your relationships."
"You don't have to have a reason to feel good. You're alive; you can feel good for no reason at all!"
"If you talk about it, it's a dream, if you envision it, it's possible, but if you schedule it, it's real."
"Why live an ordinary life when you can live an extraordinary one."
"Goals are like magnets. They'll attract the things that make them come true."
"Whatever you hold in your mind on a consistent basis is exactly what you will hold in your mind"
"Change is inevitable. Progress is optional."